Most Heritage members have been abroad to naturist sites or beaches. All we can do here is give some report backs on how our members felt about various places they had been to.

Its quite common for members to holiday in the same place at the same time.
Find out : What can we expect?
| | | |
| --- | --- | --- |
| Chilling on a French beach - a member of HERITAGE relaxes in 2004. | HERITAGE | See how we did at LaJenny in June 2005 |
August 2003 in La Jenny and here a member of Heritage enjoys the surf.

Some resorts, especially French ones, go out of their way to be children friendly.
WHERE SHALL WE GO?
Generally our members tend to holiday in Europe.

There are some nice resorts in America but not on the scale and sophistication of major European resorts. France and Spain are the major destinations, but you'll find good resorts in Croatia, Greece, and Scandinavia etc.

.... [ here Ian digests his lunch in La Jenny ]
RENT A NATURIST APARTMENT?
Heritage Club member apartments/mobile homes in
All booking enquiries can got to the Heritage Club email site or to the members themselves at the emails shown under each picture.
Situated in the Bahia de Vera NATURIST complex next to both pools it faces South East with sun on the patio or lawn for virtually the whole day. A sun blind provides welcome shade during the hottest parts of the day. A Patio table & chairs are provided along with a couple of sun beds.

Vera Playa SPAIN

Sleeps four with one double bedroom: one twin bedded room: bathroom: fully fitted kitchen; Lounge with table & chairs, sofa

Washing Machine

Fridge Freezer

Microwave

Oven & Hob:

TV & radio

from £250 per week

Situated in the Bahia de Vera NATURIST with on-site facilities include indoor and outdoor pools, tennis, boules, gardens. Close to amenities, 500yds to vast sandy naturist beach. See more at web pages:

http://chrishallcj.users.btopenworld.com

Vera Playa SPAIN

2-bedroom luxury apartment at Bahia de Vera. Fully equipped kitchen, dining area and ceiling fan; lounge area with double sofa bed with patio doors to front terrace; double bedroom with fitted wardrobes and ceiling fan and access to enclosed second terrace; twin bedroom with fitted wardrobe & ceiling fan

full cooker, oven
fridge/freezer
microwave
washing machine
satellite TV

from £250 per week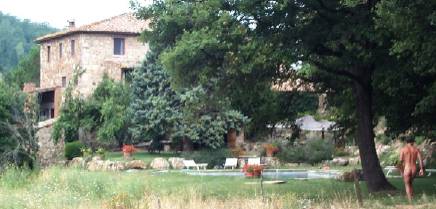 Here, members share the rental of a villa in TUSCANY.
WHAT CAN WE EXPECT?
Certainly in France and Spain, the top resorts are very professionally organised. You'll generally find these resorts and sites run efficiently to maximise your relaxation and holiday life - no different from any other resort or campsite you may have been to. There should be good apartments, shops and restaurants with clean and patrolled beaches, kids clubs etc. A useful introduction to French naturism is via the tourist office or via the French naturist association. Many French commercial sites now have banded into their own organisation.
There is a MUST-SEE Guide-Naturiste Website ( in French ) which is just reports from holidaymakers on naturist sites they have visited. Having compared the reports to the resorts we know well, it is strikingly accurate. Also it is useful to check out the FFN guide to FRENCH BEACHES
The Alan Rogers Good Camp Guides to France lists many popular French naturist camping sites with candid and useful reviews. The Dutch naturists have put together a useful site about European camp sites and their facilities. Most sites will require an International Naturist Card or equivalent. Being a member of CCBN gives you the card and is cheaper than being sold a French FFN card at the gates to a site.
There are also a host of smaller camping sites whose charm makes up for their lack of sophistication. France has the greatest number of these lesser sites, and many of them are inland.

FRANCE and SPAIN
Many members have visited Sabliere.

It is a seriously large site of 60+ hectares, 500 camping sites, over 100 chalets and mobile homes etc. It is set on steep slopes (almost cliffs) down to the River Ceze gorge. This site has all expected holiday facilities, pools, bars, shop, restaurant, disco, 'animation', river activities, some film shows etc.

Dogs on leads are allowed. Quiet is required after 10pm.

FRANCE

This is very much a nude at all times site - shops, bar, cafe, river - except in the disco which is described as 'not a rave' and 'clothing required'. Security staff constantly patrol . This site is very safe for children so you need not worry about wildlife which includes boar, scorpions, snakes, trout and endless cicadas.

Sabliere was seriously affected by flooding in September 2002, which washed away ALL the river area campings. Presumably they will re-construct.

Sabliere is an INLAND SITE, near to NIMES and ARLES. Our children loved it and we have been back several times.

The pools have been chiselled out of rock. It is very professionally run by the formidable Madame Gaby. With Feyrolles and La Genese next door there are hundreds of hectares of woodland paths and walks.

Open from 1 April to 30 September ('animation' July/Aug)

FRANCE

DETAILED REVIEW (German) AND (German) AND (English) AND (French) AND (French) AND (Italian) AND (French) AND (French) AND (French)

(IM and JM)
Arna is on the Atlantic coast just north of Biarritz. We haven't been back since the great storms felled so much of the pine forests but we understand that it is well on the way to recovery. and would wish to go back.

FRANCE

It is a moderately large resort with several hundred camping pitches and lots of chalets of various sizes. We have both camped and used a chalet.

Up to half the visitors are not French. Its charm lies in the pine trees and beach. The pools and water slide are good. The restaurant was nearly gourmet standard. Because of the location, it can get quite cool especially in the evenings.

It is not as nudist a resort as many. By early evening most people are wrapping up warm. So it may suit a wider range of naturists. The resort organisation, shop, cafes etc were all good. The camping pitches were generous and it might have been possible to hire a 'refrigerator box'.

FRANCE

DAX is the nearest large town - it has Roman connections, but Arna is not in a natural 'tourist' location. However the resort is well run with the usual range of kiddie attractions. We felt it would suit the older kids more than the 'teenies'.

(IM & JM)
La Jenny is on the Atlantic coast due west of Bordeaux and just 45 mins from the airport.

The resort is set in pine forests and is chalet only. There is no camping or caravanning.

It is very well run but it is not cheap. Most chalets are rented via the main office from the owners.

It is not nearly as hot as Spain or central France, so clothing is much in evidence. This is more a 'clothes dont care' resort than a 'clothes optional resort'.

The pool area is enormous. There is even a 3 hole golf course. The kiddies club is well run.

This is a very French resort - there are a few English.
French naturist beaches fall into three categories:

approved and authorised by the local council for naturists
accepted but not yet formally approved for naturists
denied to naturists but widely ignored (at your own risk)

This lists only the beaches/sites in each of the regions which are officially authorised by their local councils.

BRITANNY

Erquy - due west of St Malo near Lourtouais. Officially designated for the last 20 years.
Erdeven - Kerminihy, half way between Vannes and Lorient. This is Britanny's oldest officially designated beach. At low tide it is stupendous, at high tide it can be dangerous.

PAS de CALAIS, PICARDY and NORMANDY

Berck-sur-Mer - just south of Boulogne. Officially designated since 1981.
Merville - due north of Caen near Deauville. Officially designated since 1997. It seems this beach is much frequented by the French gay community.
St Germain sur Ay - just south of the Cherbourg peninsula on the west facing coast north of Agon. Officially designated since 1999.

---

LANGUEDOC

From Narbonne around to Montpelier, there are several naturist beaches all closely associated with nearby naturist campings such as La Grande Cosse and Serignan Plage., Aphrodite, Cote Vermeille and Agde.

In addition there are a few extra beaches such as:

Gruissan - La Plage des Ayguades and La Plage de Mateille
Narbonne Plage on the plage de Pisse-Vache! It is actually possible to walk along towards La Grande Cosse from Narbonne Plage as well.

PAYS de LOIRE, LA ROCHELLE and ST-NAZAIRE

This region has the most officially designated beaches.

AQUITAINE

In practice the whole coast from Rayon to Bayonne is naturist except in built up areas. The officially designated beaches are all accessed via or through the naturist centres along the coast: Euronat, Montalivet, La Jenny, Arnaoutchot. In some such as Arnaoutchot, the easiest approach is via the naturist site, others such as La Jenny can be accessed via roads to the beach beside the naturist centres.

There are some additional beaches:

La Teste de Buch - south of the Dune de Pyla (Europe's largest sand dune and worth a visit in its own right.) Carry on further south of La Lagune.
Seignosse - swimming is expressly forbidden due to the danger of undertow.
Hossegor - go to the north of the beach and after the second block-house you will find supervised naturist bathing.

PROVENCE & COTE D'AZUR

The closer you get to Nice and the fashionable resorts the more that approved naturist beaches disappear, though devoted naturists do flout the interdictions. Interestingly since 1990 St Tropez has been fiercely not naturist.

Ile du Levant - this is the famous island of naturism - actually shared with the French military and less naturist than you might suppose because its not allowed in the town and 'public places' - though on some beaches it is strictly enforced!
Fos sur Mer, Martigues and Salins de Giraud are all towards the Camargue and all have naturist beaches officially endorsed for at least 20 years.
Le Pradet, Carqueiranne and La Seyne sur Mer form another small group of towns with approved naturist beaches and are south west of Le Lavandou. In Le Pradet on the Plage Monaco, the beach is actually managed by the French FFN. At Carqueiranne, the beach is just 200 metres wide and is down a flight of 300 steps - be warned! A similar long staircase of 300 steps is needed at La Seyne su Mer down to the Plage Jonquet.

SPAIN
For many this might have been the definitive naturist beach in Spain. It used to be several kilometres long of grey volcanic sand. However the local council has been 'reclaiming' some of the beach from the naturists largely due to the demands of non-naturist developers.

At one end is the naturist hotel. The season is basically Easter till October. This is a classy well run hotel. Naturism is restricted to the non-public rooms, pool, beach and sunbathing areas.

At the other end is the start of Garrucha town - pleasant, bustling and friendly.

However be aware that this whole stretch of coast is NOT what it was. It is under constant development.

Several new hotels and residential areas are being built or have been recently built. All the old 'wild' nature of the area has all but disappeared. Some of the naturist developments are very nice indeed.

There is no shade and little access to showers or water. There are some beach cafes which are naturist. After the high season, it can be very enjoyable as the temperatures descend to the high 20s from the low 40s.

Costa Natura is a beachfront complex that faces the Mediterranean, close to Gibraltar, in the Costa del Sol region of southern Spain.

The resort is laid out on a hill overlooking the beach below. Apartments range in size from studios for two people to complete suites that can sleep 6 or more. Most have a full kitchen, bath and many have patios overlooking the Mediterranean.

Many Heritage members own apartments at Costa and go back year on year.


The resort is small in area but very well maintained. The beach is a haven of peace in the riot of the Costa del Sol - but as you can see, not enormous.

Everything that you want is on-site, but in practice you'd want to explore the region. Even naturists recognise that day after day on the same strip of sand can get a little boring.

Costa Natura is a lovely spot and the best times may well be in September.

reproduced from USAWeekend.com

Pack less, travel more. Nudism frees up your budget. "You do not need to spend lots of money on dressy outfits," Hawkins says. "Women find they don't need makeup. No pantyhose, no jewellery."

Make friends, not fashion statements. It turns out clothes really don't make the person. "Travel without clothes is the great equalizer; without the trappings of textiles, people are more open," says Amanda Poston

Be easygoing, & leave the psychological baggage behind. To get the most from travel, you have to be flexible. "Travel is an adventure, and being nude is an adventure. It brings you back to the sense of freedom you had as a child," says Donna Daniels