the VP comments on how the club is progressing.
It is really quite strange how antisocial naturists can appear to be to the outside and profane world. During the "Sunny Hours", our neighbours never see us since we spend as much time as possible at the Club; whereas, during the SAD (Seasonally Affected Disorder) period, we spend as much time as is humanly possible catching up on the jobs we should have done during the summer or ought to do before next summer.
Whilst on the subject of spectator sports - so to speak, have you managed to catch one of the line dancing evenings? They are brilliant! I really don't know how Mo manages to keep all the steps in her head, and looking at some of the dancers I jest. They are great evenings and yet again the Heritage enthusiasm shines through.
The MC has undertaken to maintain and expand our paying membership. We are raising the profile of the Club whenever a reasonable opportunity arises: advertising and submitting articles in BN and utilising the web. It is worth noting that 98% of our 2002 joining members admitted to using the Heritage Web page to either discover or confirm that Heritage was the place for them.

Previous administrations have already given us a good Club to work with, the pool, pavilion, sauna and so on are all essential parts of Club life. It is up to this and future administrations to build on that earlier solid foundation. By extending our patio and putting a chalet at the end of it to re house the sauna we will be able to remodel the changing area and toilet facilities. I personally look forward to the day when I can dry my feet after a shower without stopping someone else trying to do the same thing!

Adrian

Costa Natura is a well established naturist resort in the south of Spain. Built on an overgrown 'hillock' its endearing charm partially relies on its superb gardens and haven of peace amongst the usual riot that is the Costa del Sol.
Ever since we bought our apartment at Costa Natura in 1995, we have tried to stay there at least twice a year. Obviously we are not the only ones from Heritage who feel the same about this beautiful naturist village in southern Spain, since, during the period of our stay this September, there were no less than 14 members on holiday there. At a quick count, over 50 people have been there over the years; surely a record?
Anyway, back to September 2002. When we arrived, we were immediately greeted with open arms by Renato who runs the kiosk by the petanque court. He had sponsored a small boules competition in May that had been such a success he had decided to run another. This sort of event is great for bringing the different nationalities together, and as well as the British contingent and the Belgian winners, there were players there from Denmark, Germany, Holland and Switzerland. Our failure to win the gold tray for Heritage did nothing to dampen our spirits, and the eight of us who entered, with the exception of Glo, were to be seen on the petanque courts every afternoon, doing our best to rectify the injustice. Maybe next year!
There are many, probably hundreds of restaurants and other places to eat on the Costa del Sol, so you are always spoilt for choice. The current favourite is "La Pampa", a bistro that used to be on the local industrial estate but relocated a few months ago to refurbished premises in the centre of Estepona. It is run by the husband and wife team of Maria and Bodo, she oversees the restaurant while he does the cooking. Everything is excellent: the food, the ambiance, the service and even the crockery. The prawns in the melon and papaya were as tasty as ever and the chateaubriand fillet steak just as succulent. For anyone coming to Costa Natura, this restaurant is a must.
There are dozens of other things we could mention about our visit: Nick and Glo's evening at the concert in St Michael's Caves in Gibraltar; Brian and Eileen's day at "Selwo", the safari park only a few kilometres away; Ted and Pam's trip to Southern Portugal; Loiuse's success at the karaoke, and our frequent dashes along the autopista to Leroy Merlin (Marbella's answer to B&Q); but maybe another time. So much happens during our stays at Costa Natura that is enjoyable, and the company is so great, that we go back time after time. We hope this has given you an insight into why the members at Heritage love it the way they do.
Hope to see you there next September or even in May.
Peter and Susan.
Suntreckers
This will be the first visit by Suntreckers which is probably the UK's largest naturist club without a fixed site. Their meets are usually at other clubs.
Heritage has invited Suntreckers to visit us on the 27th, 28th and 29th of June. Because of the limited space available, this will be a small 'meet' of a maximum of six caravans.
They will be sited on the main sports field and just in case anyone was worried about camping licences - Suntreckers carry their own 'roving licence'. This means that normal club and visitor bookings will be unaffected.
Heritage extends a warm welcome to Suntreckers and hopes that June is indeed 'flaming hot'.
The club has needed for sometime to make more sense of its various camping rules ... but the changes wont happen this year.
Every now and then the management committee trips up. This year it concerned the changes proposed by the camping committee to camping rules.
The camping committee met for many an hour; the management committee met for many an hour - but when it came to the club's AGM 2002 Oooooooooops.
No one raised the proposed changes - so if you received a copy of the new camping rules and were puzzled - RELAX!
The new rules will now have to wait till the summer of 2004 before they can be implemented.
Pssst .... want to know a secret.
If you havent been to Heritage on a Friday night then you have missed a treat!
The fun starts at 8pm and last for two hours under the expert tuition of Mo.
So when does it all re-start:
FRIDAY 9th JANUARY
Joan and Gwen's tombola for CANCER RESEARCH
For many years now in mid-July Joan and Gwen have organised a tombola in aid of cancer research.
Heritage members have always been brilliant at supporting this. 2001 was no different. A staggering £1314 was raised in one afternoon.
Where do naturists carry all that cash ???
The 2003 tombola will be on Sunday 13th July.
La Grande Cosse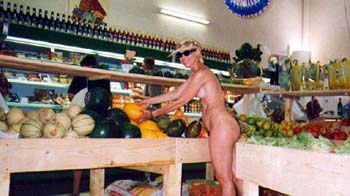 This is a resort which has its 'fans' and its 'detractors'. At its best it is superb - hot, sandy and lots of Mediterranean sea and beaches. However the mistral can blow .... and being on the edge of a salt marsh nature reserve - the wind comes straight in.
Earlier in the year we had been agonising over whether to visit the Mediterranean region or the Atlantic coast for a break at the end of June and early July. We are now retired (nominally) folks so we are not confined to school holidays and try to pick a time when the weather has warmed up but the crowds are not too thick. Postings and questions to URN helped with information on both regions and their resorts and we chose to investigate La Grande Cosse. Some notes from BN and browsing the Web led us to the Club Holidays website www.clubholidays.net. A printed brochure provided reinforcement and we "Contacted Ann for Details" as advised. After a very friendly discussion we made a booking for our preferred 10 day spell including all of the travel arrangements for air travel and car hire. There was the option to do all of these separately if we had wanted to make our own travel arrangements and just take the accommodation itself.
A few words about Club Holidays are appropriate here as it is an unusual set up. La Grande Cosse is a French run site with around a thousand pitches, which will take anything from a miniature tent to a large caravan or mobile home. The site provides electricity and, for the static homes, water and drainage as well. On the site is a decent supermarket, a restaurant, swimming pools and for those in tents plenty of shower and loo blocks. There are facilities for games of all sorts. Club Holidays (Tim and Becky) own and look after about 20 mobile homes permanently installed in one area of the site.
Unless you are leaving the site the only reason for wearing clothes is to keep warm. Although the daytime temperatures were very respectable between about 23 to 30 degrees C the evenings and early mornings could be quite chilly, down to about 15. Like much of Europe we were visiting at a time when temperatures were a bit below normal. Winds varied between flat calm, a moderate sea breeze in the afternoon to a fairly stiff northwest wind which was OK during the day but needed trousers and a sweater in the evening.
This part of the Mediterranean coast is very flat with, in some cases, sand spits enclosing etangs or lagoons, and salt marsh areas some of which dry out in the summer and flood in the winter. La Grande Cosse is set back a bit from the sea across dry scrub land (garrigue?). The path across it has a couple of bridges to cross creeks that were still wet when we were there and forms a pleasant naturist walk (or cycle ride) to the beach. The beach is magnificent, wide with fine sand, about two miles of it all naturist between the nearest village St. Pierre sur Mer in the west to Les Cabanes de Fleury in the east. At the shoreline the dip into the sea is very gentle with fine firm sand under your feet all the way out to swimming depth, plenty of room for children and the less confident.
If you do wish to get off site and have transport there are plenty of places to visit within easy range. We visited the nearby market at St. Pierre sur Mer, the historic town of Narbonne and the Domaine de I'Hospitalet, a vineyard in the La Clape hill area, which had diversified into a museum. If you do not have transport Tim and Becky run a variety of excursions, some with a picnic lunch included.

Shade is at a premium on the beach - there are no trees but there is one small cafe with parasols - SO BRING YOUR OWN SHADE - as it can get blisteringly hot.
So, was it a good choice? Emphatically, yes. We enjoyed the relaxed freedom and the opportunity for social contact, the accommodation and environment lived up to our expectations. The timing of our visit also seemed about right with a build up of available facilities at the start of the season but no sense of overcrowding. The only downsides were the swimming pool, which was a constant 1.6m depth and did not suit Evelyn who likes to get her feet on the bottom, and the mosquitoes, which seem to come out and get us in the evenings. And shall we go again? Very likely, but there are so many other places and only so much time!

To access the beach at La Grande Cosse (which means The Great Laziness), you need to walk across the nature reserve. This is a ten minute naturist stroll past WW2 bunkers, drainage ditches, over little wooden bridges etc. On the beach in normal weather is a beach cafe.
This region of Spain, Europe's only sub tropic region, is sheltered from the worst influences of the European winters by the Sierra Nevada Mountains. Africa to the south helps buffer the harsh effects of both Mediterranean and Atlantic weather, giving warm southerly breezes. There is none of the stifling humidity common to the tropics. The result is a remarkably warm, pleasant climate with little rain and over 320 days of sunshine a year.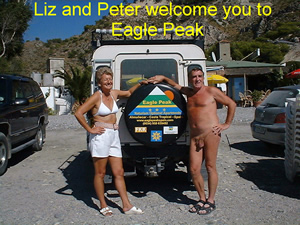 A "Peak into the other "Good Life" of (clothes optional) Spain
or
Our visit and experiences at a new naturist complex 'Eagle Peak' near Almunecar, Costa Tropical, Spain. (www.eaglepeakspain.com
When we arrived and walked through the smoked glass doors of Eagle Peak we were stunned; we had stepped into another world. It is a setting for a holiday that others spend their lives seeking and dreaming about, yet you do not have to break the bank to enjoy yourself. There is all the romantic beauty of a Spanish version of the French Riviera and the lively and yet rather chic Almunecar with its Moorish style buildings and streets only a few minutes away. In the town there are many restaurants, serving freshly caught fish and good Spanish food, tapas bars are everywhere and there are wonderful things to see, the old Roman town, the castle, the tropical bird sanctuary are just a few.
There is no need to cover up or dress while in the complex except if you gather fruit from the orchard garden (recently pruned). Even in March there are good naturist days on the beaches as they are sheltered by coves, the complex has plenty of shelter from any wind and plenty of shaded areas should it be too hot, there was a shower on our terrace and many others throughout the complex.
Eagle Peak is clean and comfortable, our apartment, was self-catering and was one of the best I have ever found. It was nicely furnished with a fully fitted kitchen. It had two sun terraces and everything we could want, including sheets, towels and sun beds and beach towels. Each of the double rooms had beautiful en-suite bathrooms with super showers.
[see our web pages on membership ]

.
New potential members are met by the membership team and come for an initial three visits, usually on a Sunday
The owners Liz and Peter live at Eagle Peak and did everything to ensure we had a good time. The complex has a club atmosphere: off the cream marble floored reception area are free tea and coffee facilities, a cold drinks cabinet and a freezer with a tempting selection of ice-creams (why can't you find them in the UK?). There is a simple chit system so you serve yourself to drinks and a dumb waiter lift will take them to the sun-terrace on the roof.
The roof is part shaded, there are colourful sun-beds, tables, chairs, umbrellas and portable BBQ's. You can cook while sitting at your table and looking over the bay. I cooked some of the best fish I have eaten, Dorado; (it had been caught earlier that day so was really fresh). The views here are beautiful too as it overlooks the orchard and there are seats for those who prefer to watch.
If you have the energy and the will it's worth an amble around the orchard garden where you can help yourself to whatever you want, some plants like the citron trees (they are like large lemons) are never out of fruit and you can pick them from the terraces. I tried cherimoyas and nispolas for the first time, they are strange fruits and very tasty but not so available in the UK as they do not travel well. Don't forget to try some if you go. My wife could not resist making vast quantities of mandarin marmalade from fruit picked in the garden. It was something really special and she gave pots of marmalade to everyone we met.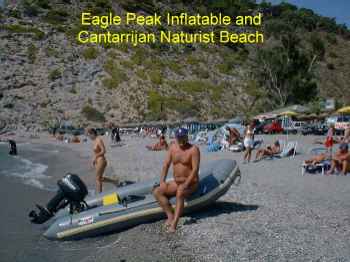 One other thing unique to Eagle Peak is the Avon inflatable with the same name. We took it on a nude trip of about an hour around the coast to the other naturist's beach 'Catarrijan', on the way we stopped to watch some scuba diving and to admire the caves and fantastic coast.
Richard
Be aware that much of the sand in this part of Spain is volcanic grey - its not 'sand castle' sand. Under foot, it does not feel that different. Spain's rules about naturism on beaches are still undergoing 'development'. A series of recent court cases have established that the local town councils cannot enforce dress or undress rules on beaches. However some councils are happy to ignore the legal precedent and order the local police force to arrest naturist beach goers when they object to their presence. Knowing the law is on your side, doesnt stop a night in a Spanish prison sometimes. In practice, be sensible - most beaches have naturist areas to them these days. Dont seek to cause offence - go with the flow.