You'll get introduced to a good cross-section of our members.

Usually you will arrive around 11am and make a full day of your visit.

Sometimes we organise these trial visits at other times when the club is busy and active such as bank holiday weekends.

You may have questions you want to have answered before that first visit. Call us or follow this link, and then this link.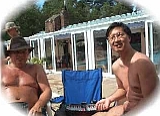 You may decide during that first visit to apply to join - we certainly hope so.
For the first year membership is probationary.
We do reserve the right to immediately remove any person whose behaviour makes their membership application inappropriate.
At the end of the first year the club's management committee considers confirmation of application to full membership.