Hopping mad at La Jenny
La Jenny is a popular destination for many of Heritage members - no camping or caravans, just lovely chalets in the pinewoods bordering the Atlantic just west of Bordeaux. It isn't cheap but it should be relaxing. Of course La Jenny had been threatened by the oil pollution disaster off Spain but the beaches were clean. But what kind of holiday was it - read on ... our young author tells all .....
Although I had been to La Jenny before, I could not really remember much about it and I would like to get across I was presently surprised.
The first few days of our holiday were particularly fun as we spent all of them body boarding down at the beach. Before I go on I would like to say the beach was fantastic with miles of golden sand and deep blue crashing waves (and only a little oil…).
When we were not doing that we were sitting (Mum and Dad) or splashing (me and Alasdair) in the pool. However then disaster struck, on our fourth day I sort of broke my toe.
How I did that I am still not really sure but I know one moment I was calmly walking into my room and the next moment I was hopping around screaming in pain. At the time I did not think I had broken my toe as there was no bone sticking up from skin like when my friend broke her arm and really my toe did not look any different. (You see! We girls can take our pain!) I dismissed the pain as a particularly painful 'stubbing'.
However when I found I could not walk, Dad thought it would be best to take me (no, not to the hospital as that would have been a sensible suggestion) but to buy a bigger pair of sandals. Thank goodness a shoe shop assistant can spot a broken toe!!!
When we arrived at the hospital I had to lie on a bed while the doctor and Dad and Chris talked in French (which was unnerving as I had no idea what they were saying). I was then wheeled off again (still fun!) to an X-ray lab. I had never had an X-ray before but I had studied them in Science lessons and to tell the truth they sounded kind of scary.
Back in the room I was before, we were met by the doctor with the X-ray. He put it on a large lit up screen (which I honestly can say I thought they only had in the movies) and informed me I had broken my toe. Funnily enough it was dad who first pointed out the fracture leading the doctor to think the Dad was a qualified doctor (how scary is that - an easy way to become a doctor is to arrive in a hospital in a brown hat and sandy shorts and randomly jab your finger at an X-ray.)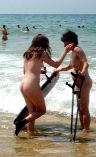 Back home I found walking very difficult and I was glad when a pair of crutches was rented for me. I was not so glad when Dad's next bright idea (so sad, as he was doing so well with the crutches idea) was to rent a bike. I did try telling him I can't ride a bike, broken toe or not (my secret shame, you are all sworn to secrecy) but he then wheeled out a bike, yes, with a baby carriage on the back. I stared at the bike in total disbelief, I mean I could barely fit in (which is not all that surprising as it was designed for 2 year olds). And just for the record, baby carriage? Not as fun as a wheel chair.
The next days went quickly and very soon we were going home. The airport was fun as I travelled in no less than 3 wheel-chairs (although I kept insisting I did not need one, I broke the tiniest toe on my right foot, that's it!) and one motorised car (which attracted quite a lot of attention I can say. Did the car really need yellow flashing lights and a siren? Saying that, there were still some people who did not notice it and had to dive for cover seconds before being hit.).
How to design a Sundial
Contrary to popular belief, designing a sundial is not a trivial matter. The maths is complicated, the sun is not quite as 'regular' as led to believe and the earth 'wobbles' on its axis. Heritage has a long tradition of creative sundials. The pool area has been repaved and so a new sundial has been instituted.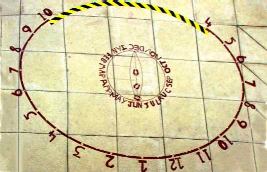 Family Fun Week is that part of the year when the club surrenders control to its children - well nearly. Adults do try to keep some of their sanity. The children and Chris recreated the sundial design by the pool, which first had been created twenty years ago.
If Chris's maths was it right and the children's painting hands were steady, the sundial should be accurate to within 15 minutes at worst, and 5 minutes most of the time.
The sundial is an ellipse and how and where you stand in the central circle is crucial to telling the time properly.
Here's how you use it:
Stand on the central north-south line where the footprints are

---

Walk up or down the line until you are due east or west of where today's date is marked on the date ring

---

Shuffle round so that your back is to the sun and you can see your shadow directly in front of you

---

The middle of your shadow shows the time.
For example, the middle footprints show where to stand on April 20th or August 25th.
Inside the date ring are two arcs which are only there to impress other sundial experts, to be honest. You may ignore them. The yellow and black tape is where I will put an inscription sometime.
---
Massive amount raised for cancer charities in the annual tombola!!
The gods looked down beneficently on Sunday 13th July. We say this every year but amazingly it just keeps getting better. The marquee area was dazzling us with sunshine and bunting. The music played gaily in the background and the people came! It was hot even for naturists but they still queued patiently and happily catching up with news and views. The atmosphere was positively enchanting. Can you believe there was so much laughter and innocent enjoyment from giving away money to a great cause? The usual booby prizes were being 'swopped' and oohs and ahs could be heard from all over.
The serious stuff is that we raised a staggering:
£1,581.10
for Cancer Research UK. This was an increase of over £400 on last year. The generosity of Heritage members seems to grow and grow. We did start fund raising a bit earlier this year with book sales and a wonderful 'head-shaving' session one quiet Saturday night. The CD sales also added to the final count. There were a couple of personal donations from individuals and this all came together in our final total. Needless to say the charity are very grateful for our help and issued us with an impressive certificate that is on show on the notice board. (How did they know to use the sun logo?)
Heritage has an active sports programme. With three tennis courts (mini-ten and full tennis) plus boules courts, shuffle board and volley ball courts - the outrageously energetic have plenty of opportunities to expend it all.
2003 Sports Results
Boules
Doubles Shield Evelyn and Mike
Men's Shield Michael
Miniten
Ladies' Doubles Shield Mo and Norah
Men's Doubles Shield Barrie and Bob
Mixed Doubles Shield Lorrie and Bob
Children's Doubles Shield James and Marcus
Children's Singles Shield Alex LT
Shuffleboard
Mixed Doubles Shield Joan and Mick
Tennis
It was too hot to play ! But last year's delayed finals were played
Mixed Doubles Cup Norah P and Tony G

Suntreckers visit Heritage for the first time for many years - Rally 27-29 June
Suntreckers are a naturist club based on camping and caravanning. A small annual fee gets access to the annual directory and then the rallies are organised at home and abroad. The Heritage Rally was small but wonderful.
Several Heritage members are also members of Suntreckers. In June, we hosted a Suntrecker Rally. To make room for eight caravans and a tent, several sites were created temporarily on the bottom lawn, still leaving space to play volleyball. We played
Shuffleboard and boules matches against the visitors. See BN 157 p46 for a write-up. To give a flavour of the weekend, here's part of the Thank You letter sent to us afterwards:
Every one of the guests commented favourably upon their enjoyment of the weekend, with the high point undoubtedly being the poolside entertainment provided by Natural Images on Saturday evening. This alone made the rally 'special', but when combined with our shuffleboard tournament, and the impromptu boules match between the home and visiting clubs, made the weekend a truly memorable one.
We would most certainly look forward to the possibility of holding similar events in future years, should the membership of the club approve!
Yours sincerely
Ian and Lynne
The Ardeche Canoe Trip
The club may not be a 'travel agent' but frequently members get together for a good trip abroad. Costa Natura is a favourite destination, but this year 20 people from 9 yrs old to 79 yrs old travelled to Sabliere to attempt the 26 kilometer canoe descent of the Ardeche. Six and a half hours after starting they stumbled ashore ....
Envisaged by Ian during a trip to the naturist resort of Sablière in Southern France three years ago, the aim was to organise a naturist holiday at low cost with the highlight being a canoe descent of the spectacular Ardèche Gorge . But then it looked as though Ian might not go, as he suddenly developed kidney and appendix problems. There would have been mutiny in the ranks if he hadn't improved.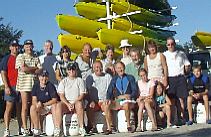 Domaine de la Sablière is a large (150 acres) naturist resort on the steep banks of the River Cèze. The opposite bank is actually a cliff. The area is well-wooded, with sparsely populated plateaux carved up by the gorges of the Cèze and the Ardèche. The valleys have many vineyards (Côtes du Rhône) and we saw large fields of lavender.
Ian booked us into a cluster of five mobile homes in a small cul-de-sac near the top which provided good views - and good exercise . Had we stayed longer it would most likely have been called "Heritage Close". Half way down were three pools with saunas and a bar. Lower down were a quite good shop and a restaurant with a spectacular view across the river. At the bottom was, of course, the river with a beach which soon became a favourite spot in the afternoons when the sun reached it.
The venturesome jumped off cliffs into the river, not only the younger ones, either. There was plenty to do in Sablière without getting into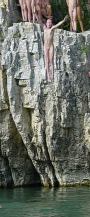 cars. The only times we ventured out were to go shopping, canoeing and to visit a spectacular cave. On foot many of us went on energetic walks led to a ruined castle and a chapel, did some rock-climbing and explored caves - all naturist.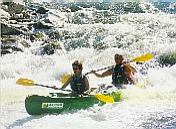 We stopped for our picnic lunches at the only official naturist beach, Les Templiers - candidly not a very nice naturist camping. However the rest was a welcome break and an opportunity to strip off life jackets (compulsory even for naturists) compare experiences, rest muscles, inspect blisters and generally get ourselves in order. The canoes allegedly have watertight plastic containers strapped on for lunches, cameras and so on - there was one case of sodden sandwiches!
In the afternoon rapids became fewer but we had occasional trouble with very strong gusting headwinds. Eventually the cliffs became lower, the river wider and the scenery more gentle. We were all pretty exhausted when we rounded the final bend and relieved to see the boatyard people waiting for us. They loaded the canoes onto a trailer and us into a bus. The drive back provided a bonus as the scenery from the top of the gorge was breathtaking - the hairpin bends taken at high speed might have had something to do with that.
The following day we all relaxed, then on the last day some of us went to the most spectacular cave in the area – the Aven d'Orgnac. Its stalacmites and draperies covering every surface are so beautiful that everyone emerged dumbstruck with awe. Wendy, an experienced caver, said she'd never seen anything like it.
The holiday went far too quickly; of course it was only six days. All agreed that it had been a great success and in between irreverent remarks directed at him we gave full credit to Ian for his idea and the great amount of organisation that he carried out so effectively and imperturbably.
The combined age of the last canoe back was 150 years!!!!
Obituaries
Heritage members range from 9 weeks old to 99 years old. Inevitably we sadly have to record the deaths of some of our members. It is a strength of Heritage that so many remain members for so long.
Dorothy
A few months ago we heard the sad news that Dorothy, mother of Vera W, had died. Many members will remember Dorothy with affection. She shared a hut with Vera (after the death of her husband, Frank) and they used it regularly until they moved to Peterborough.
We send our condolences to Vera and assure her that Dorothy will long be remembered at Heritage.
Ellen
It is with the greatest sadness that we report the death of one of our earliest members, Ellen. News of her death in the Royal Berkshire Hospital came as a tremendous shock to members, particularly as Jack and Ellen were paying their first visit to the club since their move to a bungalow in Lincolnshire (See Sundial Spring 2003).
Ellen had long been in poor health and this was the main reason for their move. Jack and Ellen had booked their caravan in at Heritage for the Tombola weekend and also to attend a golden wedding anniversary to which they had been invited. However, on arrival at the club it was evident that Ellen was far from well. She rapidly deteriorated and was removed to hospital where she died a few days later.
Ellen was a very lovable and caring person, one who was always ready and eager to help anyone whatever their problem might be. She was a loyal and loving wife to Jack, accompanying him everywhere during his motor racing days, visiting most of the tracks in Britain. Together in their caravan they called in on many naturist clubs around the country, in fact they were among the earliest Heritage members to sample naturism abroad.
To Jack, her death must come as a terrible blow and, whatever words of comfort we may try to muster, inevitably they will be inadequate. We know that all his friends at Heritage will wish to join us in our loving thoughts and sympathy at this sad time.
We will not forget Ellen.
Peter
It is with regret that we have to record the death of Peter, who, with his wife Audrey and their two sons joined Heritage fifty years ago. They were life members but, as Audrey had suffered from poor health in recent years, they visited only rarely although Peter did manage to get to Heritage on occasions. Generally, this was in mid week. He always spoke of his great love for the club.
He will be remembered by our older members and they will join in sending our deepest sympathy to Audrey and the family
Peter A
Peter sadly died peacefully at home on July 20th. He was cremated at Southampton Crematorium which, testifying to his wide circle of friends, was overflowing with mourners standing three deep around the walls.
He was cremated naked inside a cardboard coffin decorated with party balloons, as he had requested. This was a salute to his naturism and his views on thrift and waste.
Peter and Janet had been members of Badgerwood and helped run the Bracknell swim, where he was a lifeguard. At Heritage he was always willing to help with social events when volunteered by Janet.
When he retired from his work in insurance two years ago they moved to the New Forest. There he enjoyed pottering in the garden, driving the school bus and entertaining their many many friends who will remember his dry humour and easy manner.
Peter and Janet have a son, Robert, and a daughter Rebecca who has brought their little granddaughter Mollie to Heritage

New potential members are met by the membership team and come for an initial three visits, usually on a Sunday
[ see our web pages on membership ]

.